---
We all like stories of the inexplicable and miraculous, and when it came to that, the late Father Joseph Whalen of St. James Church in Danielson, Connecticut, was not so much a font as a geyser. Ordained at the age of sixty-six, the marvelous followed him everywhere. His amazing story is below this article.
And though he died four years ago, the miracles have persisted, or so it is indicated to us.
He used to bless oil (with the patronage of Saint Raphael) by the hundreds of gallons, and many reported effects with it. It is still available. It has been sent to more than a hundred countries.
At any rate, his loyal assistant, Mary Ann Wichmann, reminds us of one such happening around Father Whalen.
"Do you remember Bill Baril?" she asked in a recent note. "He passed on this past January. He had been a bad alcoholic and was sitting on a park bench in the early 1990's at his lowest point, asking God for a sign one cold winter day.

+
"All of a sudden there

was a gust of wind and a crumpled-up newspaper blew across the snowy park and stopped at his feet. He picked it up and uncrumpled it and it had an advertisement for a pilgrimage to Medjugorje with Father Whalen (a recovered alcoholic). He took it as a sign, called Father Joe, and the rest was history!
He went on the pilgrimage, made a full conversion back to his faith, and Father Joe became his sponsor and spiritual director. He worked very hard for many years for Our Lord and Our Lady [in the oil ministry] until he died of cancer this year."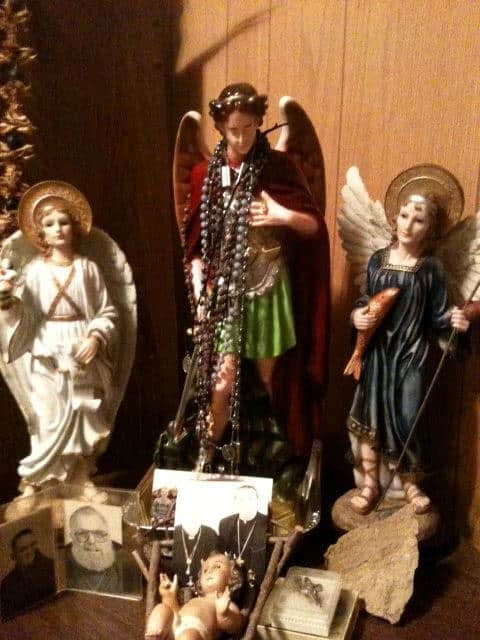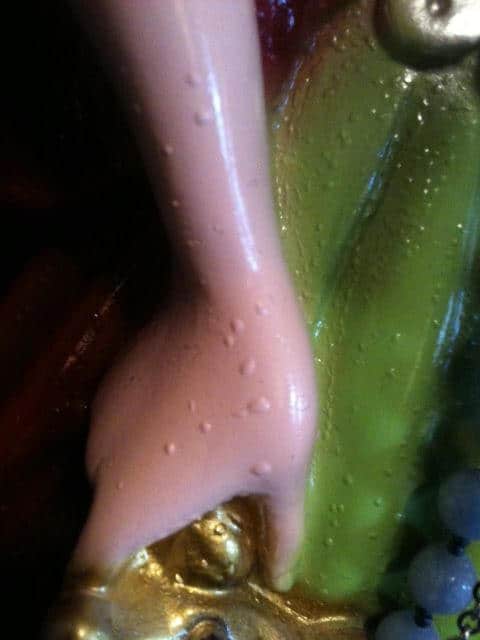 According to Bill, who lived in Wakefield, Massachusetts, the priest blessed 300 five-gallon jugs of oil a year, each of them touched by the priest; the oil was then put into smaller, many of them half-ounce bottles (100,000 to 200,000). It took a crew of twenty-five volunteers to make the oil (which was heated and contained crushed rose petals) as the prayers were recited and the entire Book of Tobit read. (Blessing bottles en masse was first suggested by Father Whalen's bishop.)
Mary Ann once related how oil was found exuding from a statue of the Archangel Michael in father's office. "Just a side note," she had said at the time. "I was cleaning Fr. Joe's office yesterday and got to the table with his statue of St. Michael (about 24 inches high, between Saint Gabriel and Saint Raphael and I placed my hands on either side of him to lift him up and move him so I could dust the table and my hands became covered with oil! The statue is exuding oil and a lot of it. I had to put him in a tray to catch the overflow. Father Joe and Father John say that oil has always been a sign of healing in the Bible but it is also a sign and consolation for us that He is with us and helping us, especially now."
Born in Quincy, Massachusetts, he had been married and divorced before the priesthood (he baptized all his grandchildren and presided at his former wife's funeral as well as those of seven siblings!). Father's two credos were: "God writes straight with crooked lines" and "It's never too late to live."
[The following is his prayer that Mary Ann posted in Bill's honor. It's called,
"For Help and Protection against Pestilence":
["Holy St. Raphael allow this healing balm, healing oil that was blessed in Heaven to flow through my entire body and touch every organ and heal me of any known and unknown ailments, then + bless yourself with the oil +, St. Raphael protect us from any diseases, plagues, chastisements, flus coming upon the earth. Amen."]
(Blessed oil is still available here or ask your priest)