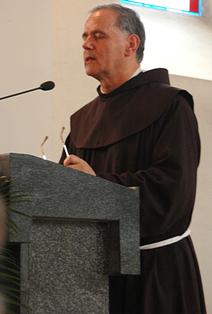 Fr. Jozo Zovko
Pray for our Priests, the Shepherds
A recurrent message we hear each month, given to Mirjana, is to pray for our priests, God's chosen ones, who are our shepherds. Our Lady emphasizes their importance to us. In Father Jozo's book, Observe the Fruits, he reveals a story about a Canadian lady, a leading ballet dancer, Lisa Baril. She and her husband, a university professor, came as pilgrims to Medjugorje. Lisa studied and perfectly learned Croatian ,and was thus able to talk fluently with the parishioners and also to interview the seers. She and her husband became great apostles of Medjugorje, becoming involved in a movement to help priests and bishops, called "The Daisy Movement" (Adopt a Priest Program). "The Daisy Movement" was founded in Aylmer, Quebec by Mrs. Louise Ward in1981 (the same year Our Lady began appearing in Medjugorje).


Within a short time, thousands of people and prayer groups were offering themselves to pray for their own priest or bishop. This movement has spread all over the world. The beauty of this movement is its simplicity. This is how it works: draw a daisy with seven petals. In the heart of the "daisy" you will write the name of the priest. On each petal for each day of the week you will write the name of the person who will be praying for the priest as long as God will keep him alive. It is also acceptable to write a couple, or a group name on a petal. Then, on a special occasion, you will give a "daisy" as a gift to our beloved priest who will surely be happy. Through prayer we can show our love and our faithfulness not only to our priests, but to the whole Church.
Fr. Jozo Zovko, during his former daily catechesis, mentioned the priests, and invited us to pray for them:
"Dearest brethren, pray for the priests. Without the priest there is no Confession; we cannot leave our sins; we have no Holy Mass. Pray for the priests!" It is important, then, that we pray for the vocations to the priesthood – for the renewal of the Church. Father Jozo believes that vocations are lacking because we have stopped praying. He encourages us to pray so that Italy and the world may always have holy priests like Father Pio and St. Leopold Mandic and others. Father Jozo continues: "Let us put into practice the messages of Our Lady, the Queen of Peace, to help the Church, the families, the world." Wouldn't it be great to answer Our Lady's by taking the initiative to incorporate the "Daisy Movement " in our own dioceses and parishes? This is a challenge to make a change in the Church and the world. Are you ready to take on this challenge?
"Do not forget your shepherds. Pray that they may not get lost, that they may remain in my Son so as to be good shepherds to their flock
." (Our Lady to Mirjana on March 18, 2009)