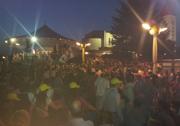 06.08.2013
The 24th International Youth Festival that began on Thursday, August 1, 2013 finished on Tuesday, August 6, 2013 with Holy Mass of Thanksgiving celebrated at 5 a.m. on the top of Cross Mountain by Fr. Danko Perutina, coordinator of this meeting.
Dozens of thousands of young people gathered in Medjugorje this year and they came from 60 different countries. The programme of the Youth Festival would start at 9 a.m. with the Morning Prayer and would continue with lectures, testimonies and lessons from Christian life throughout the rest of the day. The evening prayer programme would begin at 6 p.m. with Rosary and the central event of every day was Holy Mass at 7 p.m. The opening Holy Mass was celebrated by the Provincial of Herzegovina Franciscan Province, Dr. Fr. Miljenko Steko. Every other night, four newly ordained priests were the main celebrants: Fr. Stanko Cosic, Fr. Mario Ostojic, Fr. Josip Serdjo Cavar and Fr. Mijo Sarcevic, while the homilies were given by their older brothers: Fr. Slaven Brekalo, Fr. Petar Ljubicic, Fr. Svetozar Kraljevic and Fr. Danko Perutina.
The largest number of priests who have concelebrated at those Holy Masses was on Thursday, when 515 of them were present.
(foto)
; (
video
)